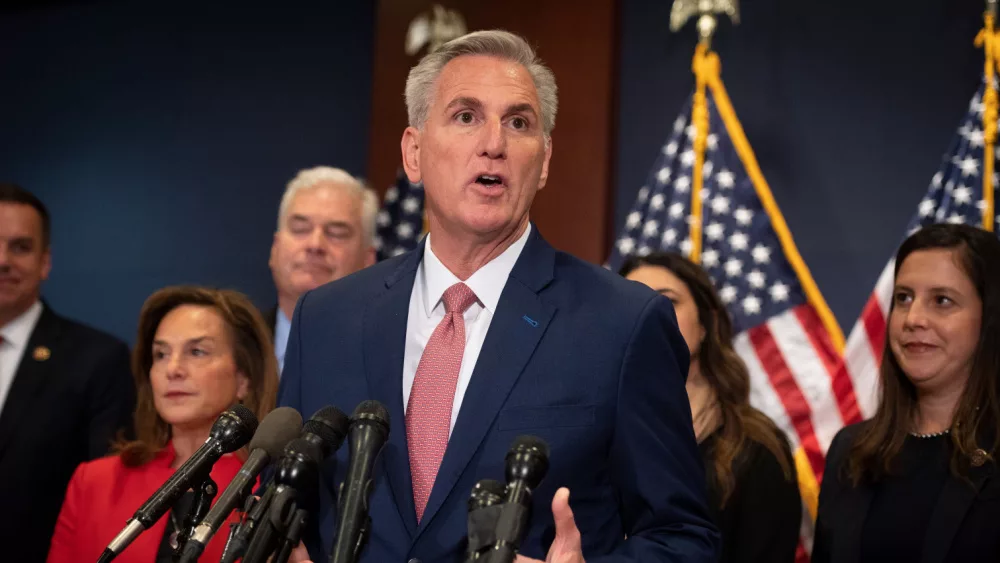 Republican House Speaker Kevin McCarthy announced Tuesday that his party is launching an impeachment inquiry into President Joe Biden.
McCarthy made the statement at the U.S. Capitol in a formal announcement, saying the move was necessary to obtain documents and bank records from Biden in connection with an investigation of the president's son Hunter Biden. McCarthy accused Biden of lying "to the American people about his own knowledge of his family's foreign business dealings," saying, "Today, I am directing our House committee to open a formal impeachment inquiry into President Biden." The speaker accused Biden of "abuse of power, corruption and obstruction," and claimed the president had "used his official office to coordinate with" his son Hunter Biden's various business dealings. McCarthy ended his speech saying "We will go wherever the evidence takes us," and left without taking questions from the press.
McCarthy said House Oversight and Accountability Committee Chair James Comer, R-Ky., will lead the impeachment investigation. He said it will be done in coordination with House Judiciary Committee Chair Jim Jordan, R-Ohio, and House Ways and Means Committee Chair Jason Smith, R-Mo. If impeached, Biden would almost certainly be acquitted by the Democratic-controlled Senate.
White House spokesperson for oversight and investigations Ian Sams said on X, formerly known as Twitter: "House Republicans have been investigating the president for nine months and they've turned up no evidence of wrongdoing. His own GOP members have said so. He vowed to hold a vote to open impeachment. Now, he's flip-flopped because he doesn't have support. Extreme politics at its worst."
Editorial credit: Consolidated News Photos / Shutterstock.com